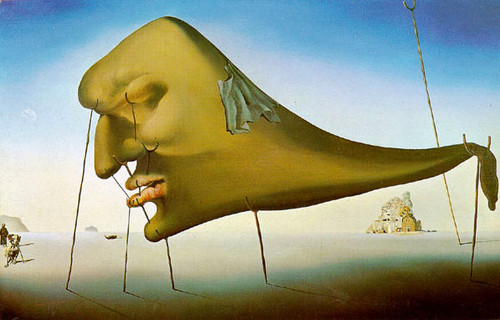 Le Sommeil (1937), Salvador Dali
Yourself Asleep Again, Micah P. Hinson, "Micah P. Hinson and The Gospel Of Progress" (2004);
When Cold Air Goes To Sleep, Radar Bros., "Auditorium" (2008);
I'm Only Sleeping, The Beatles, "Revolver" (1966);
Let Me Sleep Beside You, David Bowie, "The World Of David Bowie (compilacao)" (1970);
Go to Sleep. (Little Man Being Erased.), Radiohead, "Hail To The Thief" (2003);
Sleeping Pills, Suede, "Suede" (1993);
Asleep, The Smiths, lado-b do single "The Boy With The Thorn In His Side" (1985);
If Only Tonight We Could Sleep, The Cure, "Kiss Me Kiss Me Kiss Me" (1987);
If You Can't Sleep, She & Him, "Volume Two" (2010);
Where Did You Sleep Last Night, Leadbelly (1944);
Last Night I Heard You Crying In Your Sleep, Hank Williams (1947);
Can I Sleep In Your Arms, Willie Nelson, "Red Headed Stranger" (1975);
Cursed Sleep, Bonnie 'Prince' Billy, "The Letting Go" (2006);
Asleep and Dreaming, The Magnetic Fields, "69 Love Songs" (1999);
Sleep All Summer, Crooked Fingers [com Emma Pollock (The Delgados)], "Dignity and Shame" (2005);
Before I Sleep, Mazzy Star, "She Hangs Brightly" (1990);
Wake Me Up Before I Sleep, dEUS, "In A Bar, Under The Sea" (1996);
I Need Some Sleep, Eels, "Shrek 2 (OST)" (2004);
Desce À Cama, Foge Foge Bandido, "O Amor Dá-me Tesão/Não Fui Eu Que Estraguei" (2008);
Lullaby, Tom Waits, "Blood Money" (2002).
[Parandróide@Andróide Paranóide]